What is Diclofenac?
Diclofenac name is derived from its chemical name 2-(2,6-dichloranilino) phenylacetic acid. Diclofenac is a non-steroidal anti-inflammatory drug (NSAID)taken to reduce inflammation and is an analgesic for reducing pain in certain conditions.
Synthetic
Not-natural
Synthesized in Chemical factories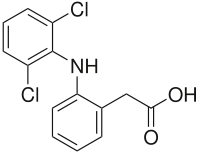 All Allopathic Sythetic drug belong to NSAID group of anti-inflammatory agents used in pain relief creams/gels and Tablets
Alternative for Diclofenac?
It appears to be a need of drugs with good efficacy and low toxicity (side effects) in the treatment of body pains.

Specifically, there is a need for safe and effective drugs for patients who suffer due to side effects of synthetic drug therapy using Diclofenac.
Such patients are turning increasingly to complementary/alternative medicines (CAM).

Our ancient traditional medicine (Ayurveda) provide same benefits of Diclofenac with no side effects then why to use a product with Diclofenac.
Amrutanjan provides the following body pain products using powerful Ayurvedic ingredients and without Diclofenac. It is 100% natural and Ayurveda has no side effects.